Georges Seurat (1859-1891)
Georges Seurat is best known for his novel technique of painting in tiny dots of colour - the method known as 'pointillism', which he devised according to rigid scientific principles. A proud man, but extremely shy by nature, he spent most of his time reading books or painting in the isolation of his studio. He was intensely secretive, jealously guarding his latest discoveries from even his closest friends.
Seurat was attracted by much the same subjects as his Impressionist contemporaries - seascapes, summer by the River Seine, the entertainers of the Parisian night-clubs. But instead of recording fleeting impressions, he imposed a sense of stillness and order on his world. Seurat's whole career was compressed into 12 years of patient activity. He died tragically young, probably from meningitis, at the age of 31.
THE ARTIST'S LIFE
The Quiet Experimenter
A man of independent means, Seurat devoted his short life entirely to art. He worked alone and was so secretive that even his close friends were unaware that he had a wife and son.
Georges-Pierre Seurat was born in Paris on 2 December 1859, the son of comfortably-off parents. His father, a legal official, was a solitary man with a taciturn and withdrawn manner which his son also inherited. At every available opportunity, Antoine-Chrisostôme took leave of his family and disappeared to his villa in the suburbs to grow flowers and say mass in the company of his gardener; he was only at home on Tuesdays. Seurat's mother was quiet and unassuming, but it was she who gave some warmth and continuity to his childhood.
The family apartment was on the Boulevard de Magenta, close to the landscaped pleasure garden the Parc des Buttes-Chaumont, where young Georges and his mother spent much of their spare time. Such places, and the people who frequented them, were to become the subject of some of his greatest paintings.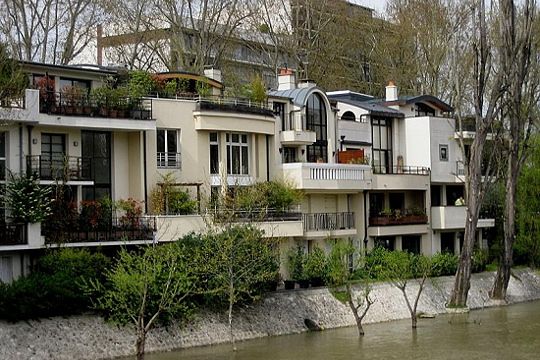 La Grande Jatte:
In Seurat's day the island of La Grande Jatte - in the River Seine, on the outskirts of Paris - was a popular weekend pleasure resort. Seurat visited the island frequently, and chose it as the setting for his largest painting.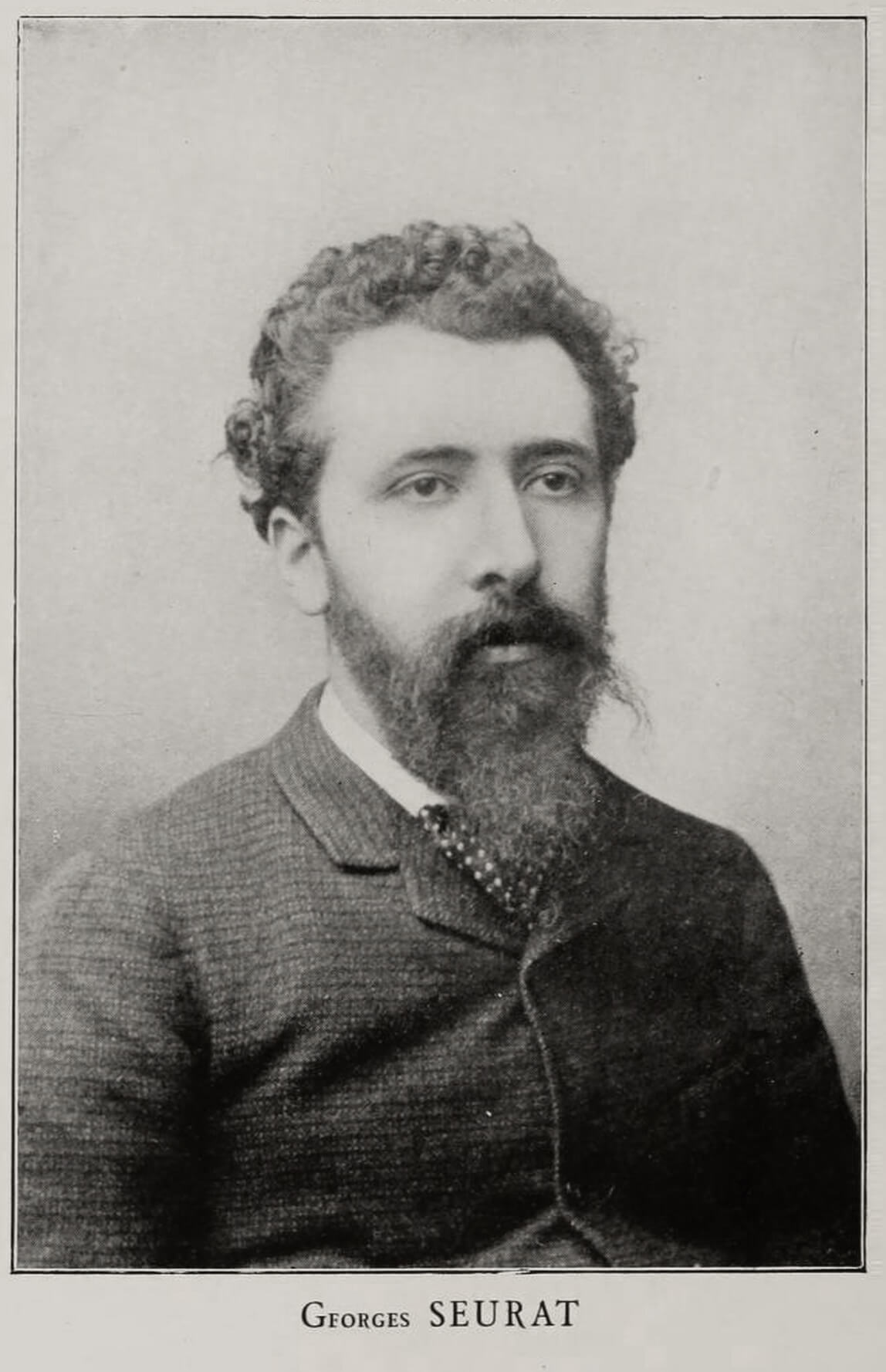 Hidden depths:
Seurat's personality was reserved but strong. A contemporary wrote of him: 'Imagine a tall young man, extremely shy, yet of great physical energy .... He is one of those peaceable yet stubborn men who may appear afraid of everything, but who actually do not flinch at any challenge.
THE HANDSOME STUDENT
As a young man, Seurat was tall and handsome with 'velvety eyes' and a quiet, gentle voice. Reserved and dignified in dress as well as manner, he was always neatly and correctly turned out: one friend described him as looking like a floor-walker in a department store, while the sophisticated and sharp-tongued Edgar Degas nicknamed him 'the notary'. He was serious and intense - preferring to spend his money on books rather than on food or drink - but his most pronounced characteristic was his secretiveness.
Despite many of the qualities of the perfect student, Seurat did not particularly shine at school or at the Ecole des Beaux-Arts, the official Paris art school, which he entered in 1878. But thanks to a regular allowance, he never had any need to sell his work for a living - nor to produce work that was saleable. In 1879, a year of military service broke into his artistic studies. Seurat was sent to the great military port of Brest on the western coast of Brittany, where he fitted in easily to barracks discipline and used his spare time to begin sketching figures and ships.
Returning to Paris in 1880, the young artist initially shared a cramped studio on the Left Bank with two student friends before moving to a studio of his own, closer to his parents' home on the Right I Bank. For the next two years, he devoted himself E to mastering the art of black and white drawing.
The year 1883 was spent working on a huge canvas, Bathing at Asnières (p.268), his first major painting. In 1884, the Salon jury rejected it and a Seurat changed the direction of his career. From this year on, instead of pursuing a conventional academic course, he scorned the Salon and allied himself with the young independent painters.
An instinctively gifted painter, Seurat also had extraordinary powers of concentration and perseverance, and took a dogged and singleminded approach to work. He was convinced of the rightness of his own opinions, and of the importance of the 'pointillist method he was developing. Although other painters turned to him as a leader, he seems to have inspired admiration rather than affection. He in turn looked upon this admiration as naturally befitting his superior intellect, hard work, and achievement.
Seurat's champion:
The writer Félix Fénéon vigorously defended Seurat and his avant-garde friends at a time when they were subjected to much critical abuse. This extraordinary portrait of Fénéon was painted in 1890 by Paul Signac. It shows him sporting his distinctive 'Uncle Sam' beard
Friend and disciple:
Paul Signac was a valuable friend who introduced Seurat to other artists. An accomplished painter himself, he also wrote a book explaining Seurat's scientific theories of painting and adopted many of his friend's ideas. Seurat drew this portrait in about 1889.
MEMBER OF THE COMMITTEE
In May and June 1884, Seurat's Bathing at Asnières hung at the first exhibition of the new group of Artistes Indépendants, mounted in a temporary hut near the ruined Tuileries Palace. The show ended in a financial muddle, but out of the ensuing arguments, a properly constituted Société des Artistes Indépendants emerged, committed to holding an annual show with no jury. Seurat attended its committee meetings regularly, always sitting in the same seat, quietly smoking his pipe.
At one such meeting, Seurat struck up a friendship with Paul Signac. Signac was four years younger, a largely self-taught painter who was influenced by the Impressionists and very receptive to Seurat's theoretical ideas. The extrovert and enthusiastic Signac provided Seurat with contacts and moral support as he set about making his mark within the avant-garde.
In the summer of 1884, Seurat embarked on another major canvas, again depicting the popular boating place of Asnières, but this time focusing on the island of La Grande Jatte in the Seine. With characteristic single-mindedness, he devoted his time entirely to the composition. Every day for months he travelled to his chosen spot, where he would work all morning. Each afternoon, he continued painting the giant canvas in his studio.
A fashion for decadence:
Through Signac, Seurat came into contact with many contemporary artists, including the Dutchman Jan Toorop, who painted The Three Brides (1893), a famous example of the fashionable taste for 'decadence'. Like Toorop, Seurat exhibited with the avant-garde Belgian group Les Vingt (The Twenty) - and in fact, Seurat was better received 5 in Brussels than in Paris.
A Belgian friend:
Theo van Rysselberghe - here caricatured by himself - was a Belgian artist who admired Seurat's work.
After two years of concentrated, systematic work, Seurat completed the painting in 1886, and exhibited it with the Impressionist group in May of that year. La Grande Jatte proved to be the main talking point of the exhibition, and he was hailed by the critics as offering the most significant way forward from Impressionism. Félix Fénéon, a sensitive and sympathetic young critic, was particularly impressed. He christened Seurat and his associates the Neo-Impressionists, and became an enthusiastic spokesman for them. In a series of articles on contemporary art in the newly launched Vogue magazine, Fénéon paid special attention to Seurat's work, and expounded his new method in scientific detail.
CENTRE OF CONTROVERSY
Suddenly, Seurat found that he was the most controversial figure on the artistic scene in Paris. He was now occupying a studio next to Signac's on the Boulevard de Clichy in Montmartre. Here he was surrounded by artists ranging from the conservative decorator Puvis de Chavannes, whom he greatly admired, to more progressive contemporaries - including Degas, Gauguin, Van Gogh, and Toulouse-Lautrec. He was at the centre of artistic debates, but he kept aloof from them.
Seurat's relative financial ease meant he was unused to dealing with potential clients, and his demands remained modest despite his new fame. Once, when pressed to name his price for the painting he was showing at 'The Twenty exhibition in Brussels, Seurat replied, 'I compute my expenses on the basis of one year at seven francs a day. His attitude to his work was similarly down-to-earth and unromantic - he had no pretensions to the status of a genius. When some critics described his work as poetic he contradicted them: 'No, I apply my method and that is all.' He was, however, very concerned not to lose any credit for the originality of his technique and guarded the details obsessively.
Seurat's life had begun to assume a regular pattern. During the winter months, he would lock himself away in his studio working on a big figure picture to exhibit in the spring, then he would spend the summer months in one of the Normandy ports such as Honfleur, working on smaller, less complex, marine paintings. Whether in Paris or on the coast, Seurat was never a great socializer and in the last year of his life he virtually cut himself off from friends. He could warm up in a one-to-one situation, but by all accounts, his conversation centered on his own artistic concerns.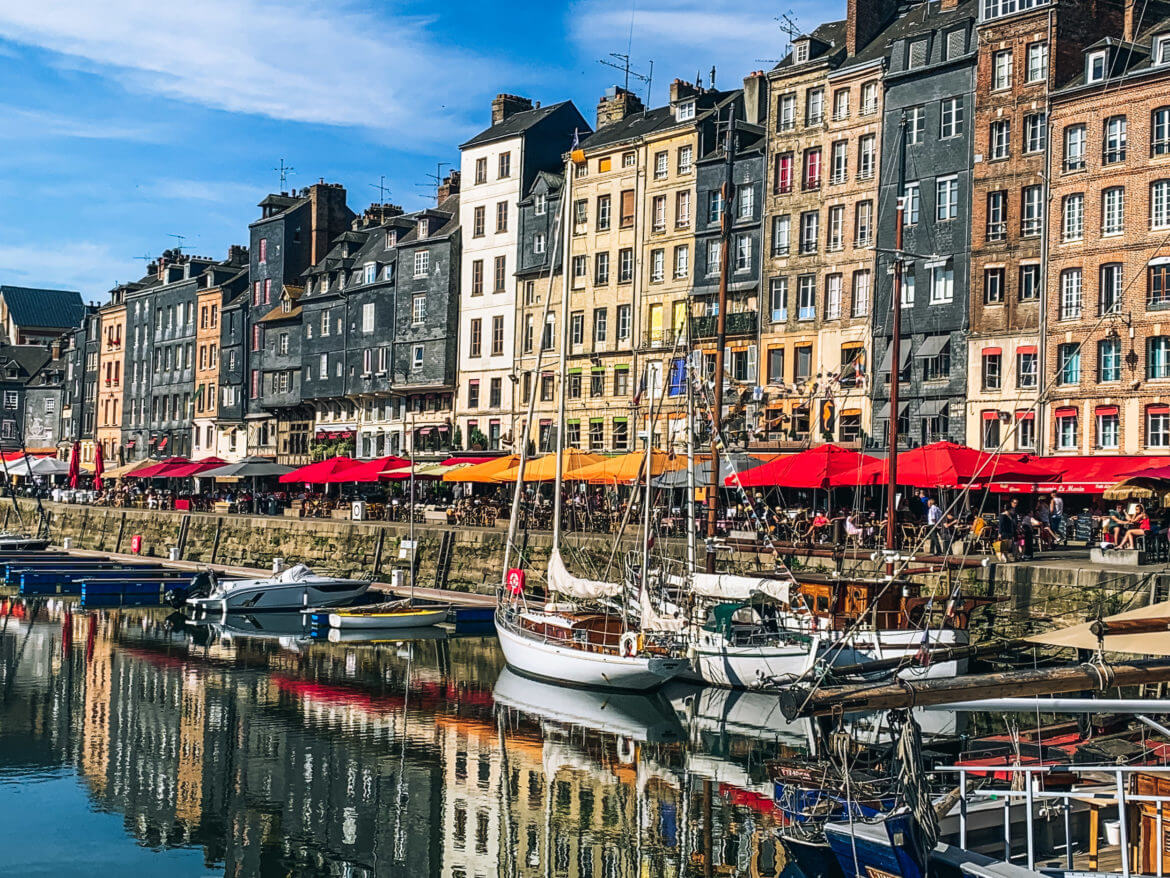 Summers in Honfleur:
Seurat often spent the summer at this port and other resorts on the Normandy coast. Seascapes and harbor views formed a major part of his output as a painter.
A SECRET FAMILY
Late in 1889, when Seurat was approaching 30, he moved away from the bustling Boulevard de Clichy to a studio in a quieter street nearby, where - unbeknown to his family and friends - he lived with a young model, Madeleine Knobloch. In February 1890 she gave birth, in the studio, to his son. Seurat legally acknowledged the child and gave him his own Christian name in reverse. But it was not until two days before his death that he introduced his young family to his mother.
Seurat died in March 1891, totally unexpectedly: he seems to have contracted a form of meningitis. One week he was helping to hang the paintings at the Indépendants exhibition and worrying that his hero Puvis de Chavannes had walked past The Circus without so much as a glance; the following week he was dead, at the age of 31. Signac sadly concluded 'our poor friend killed himself by overwork.'
Wife and Heiress
Seurat was so secretive that few people knew he had a common-law wife named Madeleine Knobloch, and after his early death, even his close friends were surprised to learn that he also had a son. Seurat's parents allotted her a half-share of the paintings he left behind in his studio, but Madeleine was not content with this. She claimed that Seurat's friends were trying to 'despoil her of his works, and these repeated accusations eventually turned everyone against her.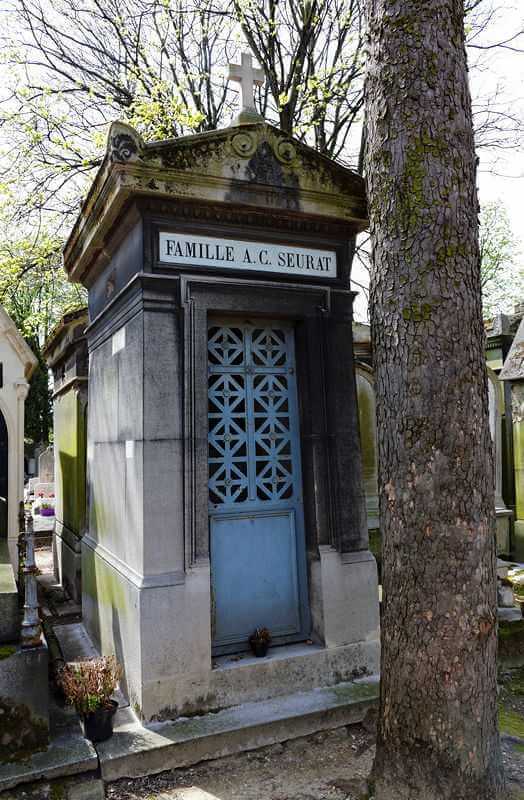 Seurat's tomb:
Seurat is buried in an imposing family vault in Père Lachaise Cemetery in Paris.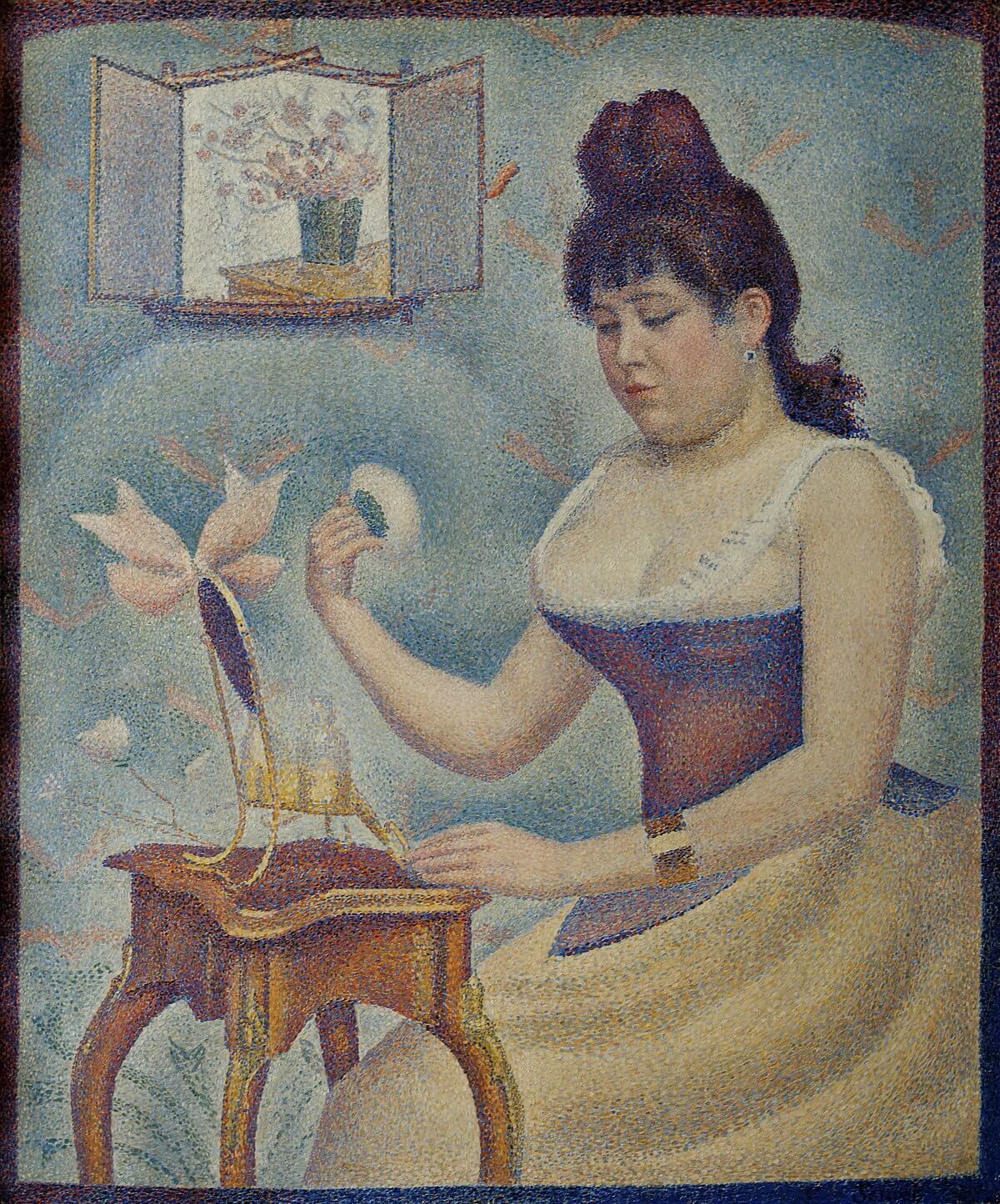 Woman Powdering Herself (1890):
Seurat's wife Madeleine - model for this painting - was described as 'a poor scatterbrain'.
THE ARTIST AT WORK
A Pattern of Dots
With the aid of scientific treatises on color - and his own acute powers of observation - Seurat developed a highly original technique of painting, using tiny multicolored dots.
Seurat is best known today as the artist who devised a painstaking method of painting in tiny dots. His works as a whole, paintings, and drawings alike are characterized by their precise and deliberate quality. He left nothing to chance, never starting a picture unless he knew exactly where he was going. As one friend remarked later, the sensation of being carried away meant nothing to him.
Every day, Seurat shut himself in his little studio, surrounded by his books. There he could be found perched on a step-ladder in front of one of his canvases - some of them up to ten feet long working in silence, his eyes half closed, a little wooden pipe held tightly between his teeth. He often worked late into the night, undeterred by the poor artificial light. When he wanted a breath of air Ē he went for long walks around Paris.
A MYRIAD OF DOTS
To begin with, he covered the canvas with a layer of paint. Over this, he painted a layer of local colors in broad textured strokes. Then he began to build up the painting using multicolored dots, taking small sections of the canvas at a time and working with incredible concentration. And because he had mapped out every detail in advance, he rarely needed to step back from the canvas to see the whole effect.
When friends came to visit Seurat, they found him reserved and uncommunicative. He only became animated when they touched upon his ideas or theories. Then he would climb down from his ladder and, taking up a piece of chalk, eagerly draw diagrams on the studio floor.
Seurat did not invent these theories. Rather he studied the aesthetic and scientific treatises of the day with a view to finding logical explanations for the colouristic qualities he had already admired in paintings. One of the key notions Seurat took up was the idea of 'optical mixture'. Instead of mixing his colours on the palette before placing them on the canvas, which made them lose their brilliance, he tried placing separate dabs of unmixed color side by side on the canvas. He believed that they would then merge in the eye of the spectator, without any loss of vibrancy. The Impressionists had worked like this instinctively, but Seurat was able to justify the practice in logical terms.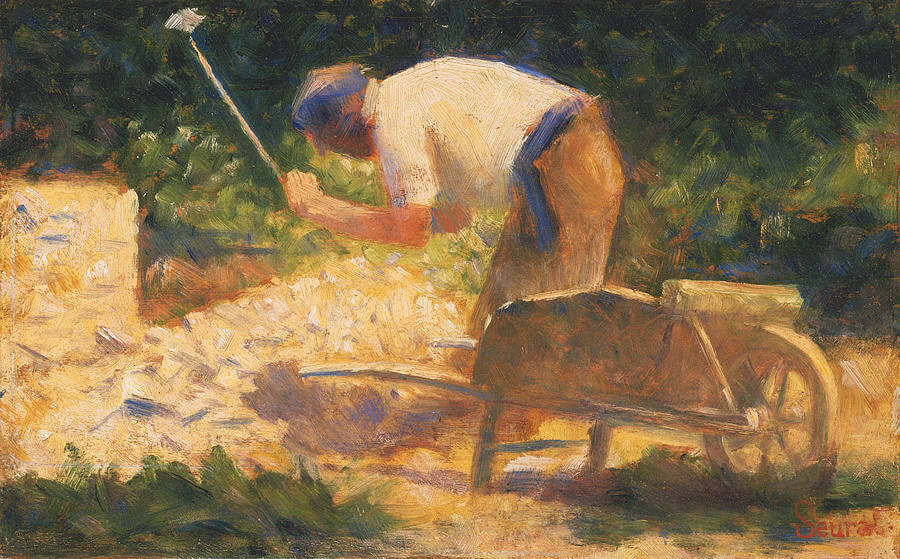 The Stone Breaker (c.1883):
Seurat's earliest subjects were peasants at work, toiling in the fields or at the roadside. They were painted on small wooden panels in a bold Impressionist style.
Seurat first experimented with this novel technique in a seascape of 1885, painting in regular dots or dashes to capture more subtle changes in light effects. It was this technique that was dubbed "pointillism'. The actual colors of the dots depended on a number of considerations: the natural colour of the scene before him, the effect of sunlight or shadow, and the reaction of one colour to another. By a logical extension of his desire to control the viewer's response, Seurat began, in 1887, to give his works painted borders.
What Seurat hoped to achieve through the pointillist technique was not just greater accuracy, but also the vibration of light itself. He was hampered, unfortunately, by faulty materials. By the 1890s, his artist friend Paul Signac could already see serious discoloration and darkening in some of the colors Seurat had used.
The Models (1888):
In this 'small version', three models pose in front of Seurat's huge canvas La Grande Jatte. Seurat probably wanted to prove that his vibrant 'dot' technique could be applied with equal effect to a studio interior or a sunny outdoor scene.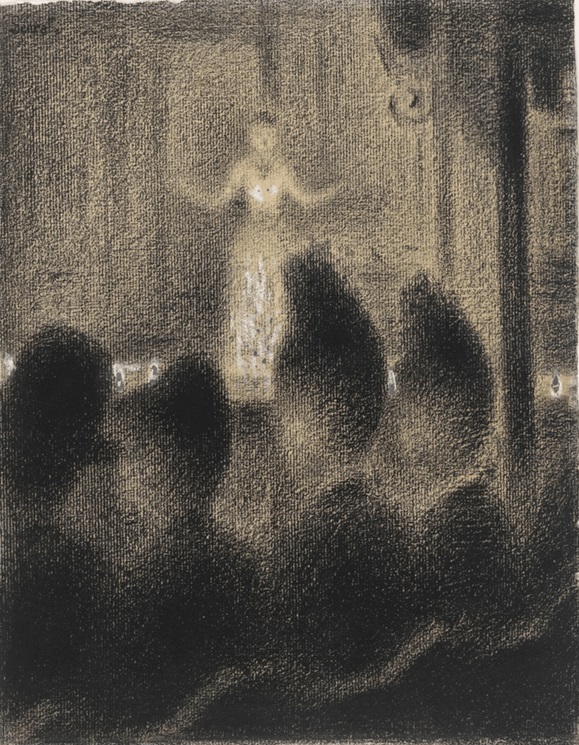 A master draughtsman:
Early in his career, Seurat devoted two years to mastering the art of drawing in black and white. The 'Concert Européen' (1887/8) shows the beautiful subtlety of his technique.
The Eiffel Tower (1889):
Seurat painted the Eiffel Tower a year before it was opened to the public when it was highly unfashionable to like it. At that time, the tower was covered in enamel paint in various colors, so Seurat's colorful technique was strangely suited to it.
The theory in practice:
In a working sketch for his final painting, The Circus, Seurat blocked the main lines of the composition in blue. The lady bare-back rider sets the emotional tone of the picture - she is sketched in 'happy! lines, leaping upwards.
COMPARISONS
The Coast of Normandy
Many French artists painted views of the Normandy coastline, attracted by the bustling harbors, the majestic chalk cliffs, the fishing craft, and the many moods of the sea.
But each painter catches a different mood. Seurat himself liked to evoke the 'feeling the sea inspires on calm days. Pissarro was more interested in the appearance of the ocean under different weather conditions. And Courbet responded most strongly to the rugged character of the cliffs along the seashore.
Gustave Courbet (1819-77)The Cliffs at Etretat:
Courbet's vigorous seascape shows a gusty day at Etretat - famous for its natural rock arch, formed by the relentless beating of wind and sea.
Camille Pissarro (1830-1903) The Pilot's Jetty, Le Havre:
Pissarro gave this busy harbor scene the detailed subtitle 'Morning, grey weather, misty'. The bleak, overcast sky is reflected in the greyish green sea.
HAPPY AND SAD LINES
From 1887 onwards, Seurat turned his restless intelligence to the problem of line. He was intrigued by contemporary theories on the directions of lines and the belief that in a painting lines could be used to convey different emotions. Upward-tending lines were thought to express gaiety, horizontal lines serenity, and downward lines sadness. He applied these theories in some of his later works, especially those depicting the artificially high-spirited world of the circus.
For his subject matter, Seurat turned his analytical eye to the contemporary world. At first, he deliberately set out to explore Impressionist subjects - suburban scenes, summer landscapes, and seascapes. But unlike the Impressionists, who had tried to capture the passing moment, Seurat was fascinated by the eternal moment - the timeless grandeur of everyday life. Later he favoured themes in which people were performing: circus parades, cancan dancers, singers and clowns.
In his early drawings, Seurat had made studies of individual figures, which he re-used in his later compositions, but they remain isolated. Even his crowds are strangely silent.
Seurat's drawings form an important part of his output - described by Signac as 'the most beautiful painter's drawings that ever existed'. As in his paintings, Seurat organized and simplified his subject matter to convey a fixed and lasting image. He patiently built up tones in small criss-cross strokes, using velvety conté crayon on heavy, rough-textured paper. Often he would isolate a dark silhouetted figure against a lighter background, or capture the fall of lamplight on the softened features of a face.
If Seurat can be criticised for a certain dryness and impersonality, he was nevertheless one of the most acute observers of contemporary life. The perfect balance of harmony and luminosity he achieved has never been equalled.
The pointillist nude:
Seurat's Study for The Models (1887), shows how successfully his technique could be applied to painting a nude. The regular dots are used to convey the roundness of the model's simplified form.
Port-en-Bessin (1888):
In this carefully composed painting of the quay at Port-en-Bessin, Seurat makes meticulous use of his pointillist technique. The dots vibrate on the canvas, suggesting the harshness of the midday sun. Stiff little figures cast short shadows made up of red, blue, and orange dots. The detail of the pavilion in the background shows just how many colors Seurat used. From a distance, these dots blend together in the eye of the onlooker.
THE MAKING OF A MASTERPIECE
La Grande Jatte
Seurat began work on La Grande Jatte in 1884 and spent nearly two years on the immense canvas. For months on end, he visited the little island on the Seine, making studies of the Sunday strollers and the sunny landscape. He worked with complete concentration, molding the real scene into the picture of his imagination - when the grass grew too long at the river's edge, he even asked his friends to cut it. Eventually, Seurat began to build up the final picture in his studio, skilfully distributing his calm, static figures across the canvas. The finished work was exhibited in 1886 at the last Impressionist exhibition, where it provoked an outcry. Seurat's admirers hailed him the Messiah of a new art'.
Solemn silence:
In reality, the Sunday crowds were often rowdy and boisterous, but the people in Seurat's painting are dignified and restrained. He delights in showing the details of their clothes, their hats and canes, dainty fans, and genteel reading matter.
The fashionable bustle:
Seurat probably drew his elegant costumes from contemporary fashion plates. The bustle was at the very height of fashion.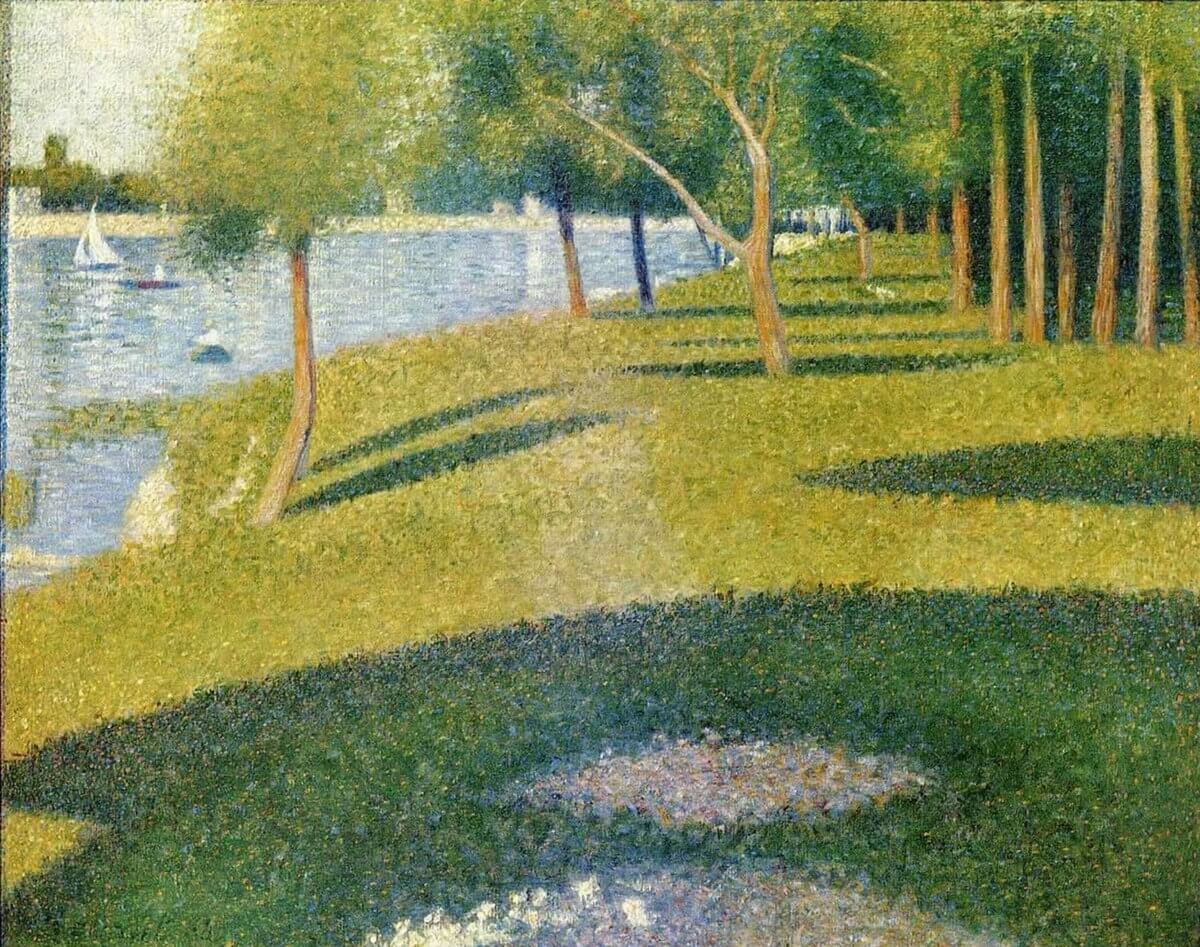 An empty landscape:
Seurat made a detailed study of the landscape without any people in it.
Sketches of monkeys:
Seurat made four sheets of drawings for the monkey in the right foreground. In the painting, he is spotted with yellow, purple, and ultramarine.
Gallery
Seurat made over 20 outdoor studies for his first major painting, Bathing at Asnières, creating the finished picture in his studio. This exhaustive approach was typical of his working method, yet Seurat had not yet developed an individual technique. When he returned to the banks of the Seine to begin work on La Grande Jatte, he was in the process of inventing an entirely new style of painting in tiny, brilliantly coloured dots.
During the summers, Seurat left Paris to paint many calm seascapes and quiet harbour views in his new style. He stayed in resorts like Grandcamp and Gravelines on the Normandy coast, hoping to 'freshen his eyes' after long bouts in the studio.
Back in the capital, Seurat found another rich source of subject matter in the lively night-life of Montmartre. His late masterpieces, La Parade, Le Chahut and The Circus (which he did not live to complete) all show entertainers of one kind or another - musicians, high-kicking dancers, graceful acrobats and clowns.
Bathing at Asnières 1883-84:
This timeless image of working people relaxing at the weekend is set in the vicinity of the industrial suburb of Asnières. The air is heavy with the midsummer heat and the inhabitants have come to the island of La Grande Jatte to cool off by the banks of the Seine. In the background, we see the railway bridge and the factory chimneys. Men and boys in various stages of undress are spread out carefully through the landscape. Their simplified, static poses give the painting an air of silence and repose. Only the boy in the water, frozen in the act of cupping his hands to his mouth, seems to make any sound.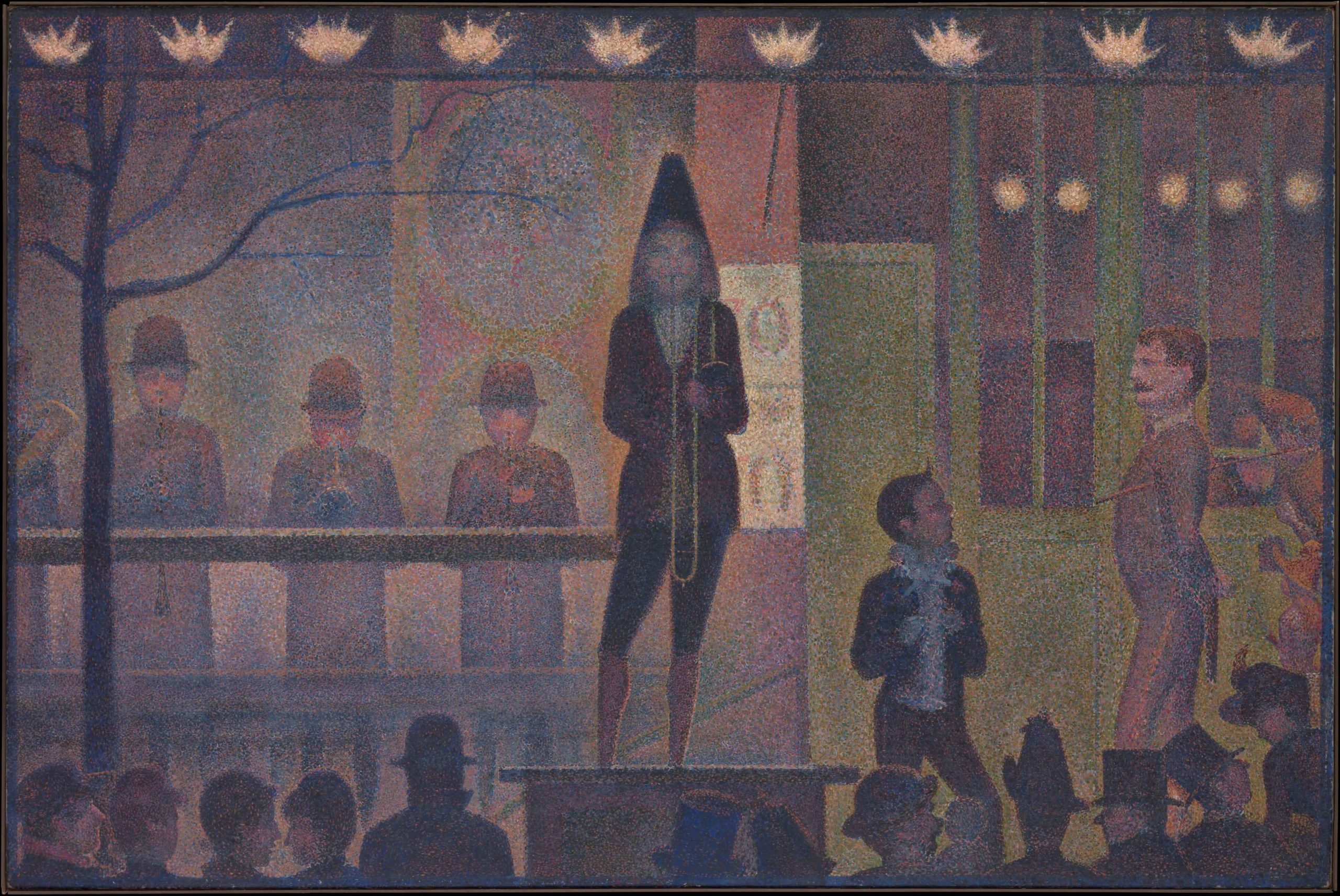 La Parade 1888:
Like many of his contemporaries, Toulouse-Lautrec among them, Seurat was fascinated by Parisian nightlife: the caféconcerts, the dance halls and the circus. La Parade shows a carnival booth at the circus, illuminated by blazing gaslamps. In the centre, the austere trombone player stands out in a dark silhouette. Behind him, the band in their derby hats dissolve in the brilliance of the stage lighting. At the foot of the canvas, the heads of the inattentive audience look like cardboard cut-outs.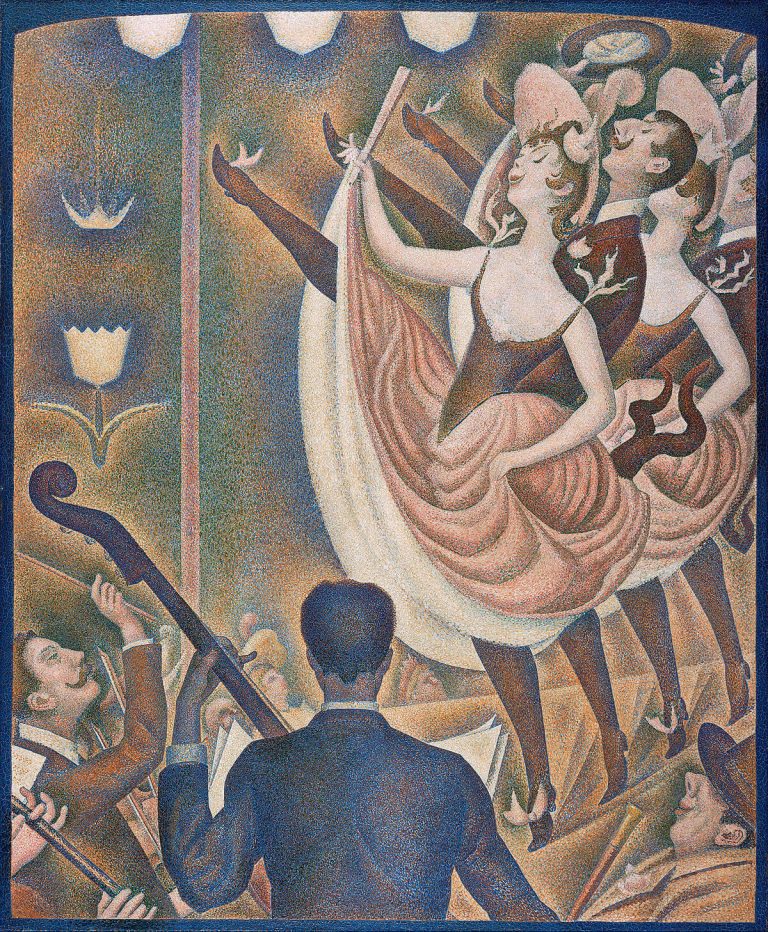 Le Chahut 1890:
In this nightclub scene, Seurat focuses our attention on the 'happy' diagonal lines formed by the dancers' raised legs as they perform 'Le Chahut', and the sloping neck of the double bass. The mood of gaiety is intensified by the leaping coat-tails of the male dancer and the 'smiling' bows on the women's shoes.
IN THE BACKGROUND
Nights at the Circus
Like Degas and Toulouse-Lautrec before him, Seurat was a frequent visitor to the circus, which saw its heyday in Paris - and the rest of Europe - during the last years of the 19th century.
The permanent circuses set up in Europe during the second half of the 19th century brought together under one roof the many fairground acts which had provided amusement for centuries, including animal menageries, gymnasts, jugglers, conjurors, and skilled horsemen. Acts good enough to attract and keep audiences could assure their performers of good salaries, status, and fame for circus acts toured around the continent, heralded by a blaze of advance publicity.
MIDGETS AND MERMAIDS
Success depended on astonishing the audience, and thus the circuses did by exhibiting curiosities such as midgets, giants, and 'mermaids'; training animals to perform tricks - such as elephants riding cycles, and inventing new and more ingenious acrobatic acts, demanding faultless timing, and relentless physical training on the part of the circus performers.
One act, which achieved tremendous notoriety in London after its first performance at Astley's Amphitheatre in 1864, was Mazeppa's Ride. A woman bareback rider named Adah Menken was strapped, supposedly naked (but in fact clothed in what now seems a quite decorous tunic), on the back of a 'wild horse, which would then rear and gallop around the stage. The act had been performed for years, but never before by a woman.
It was the start of a new and immensely popular circus tradition of young female performers which introduced a risqué, slightly titillating aspect to the circus spectacular. Menken's daring ride was surpassed in 1877 when the young Madame Zazel (a girl from Leicester) was stuffed down the barrel of a cannon - actually a spring-loaded catapult - and fired high above the audience at West's Amphitheatre in London. For each performance as a human cannonball, Madame Zazel received the then princely sum of £20 and retired with her fortune two years later.
A show every night :
Paris boasted five permanent circuses during the 1880s. Housed in substantial buildings - like the Cirque d'Hiver, shown here after its conversion into a cinema - they featured action-packed shows every night of the week. The demand for sensational performances produced such incredible acts as the human cannonball and elephants riding bicycles.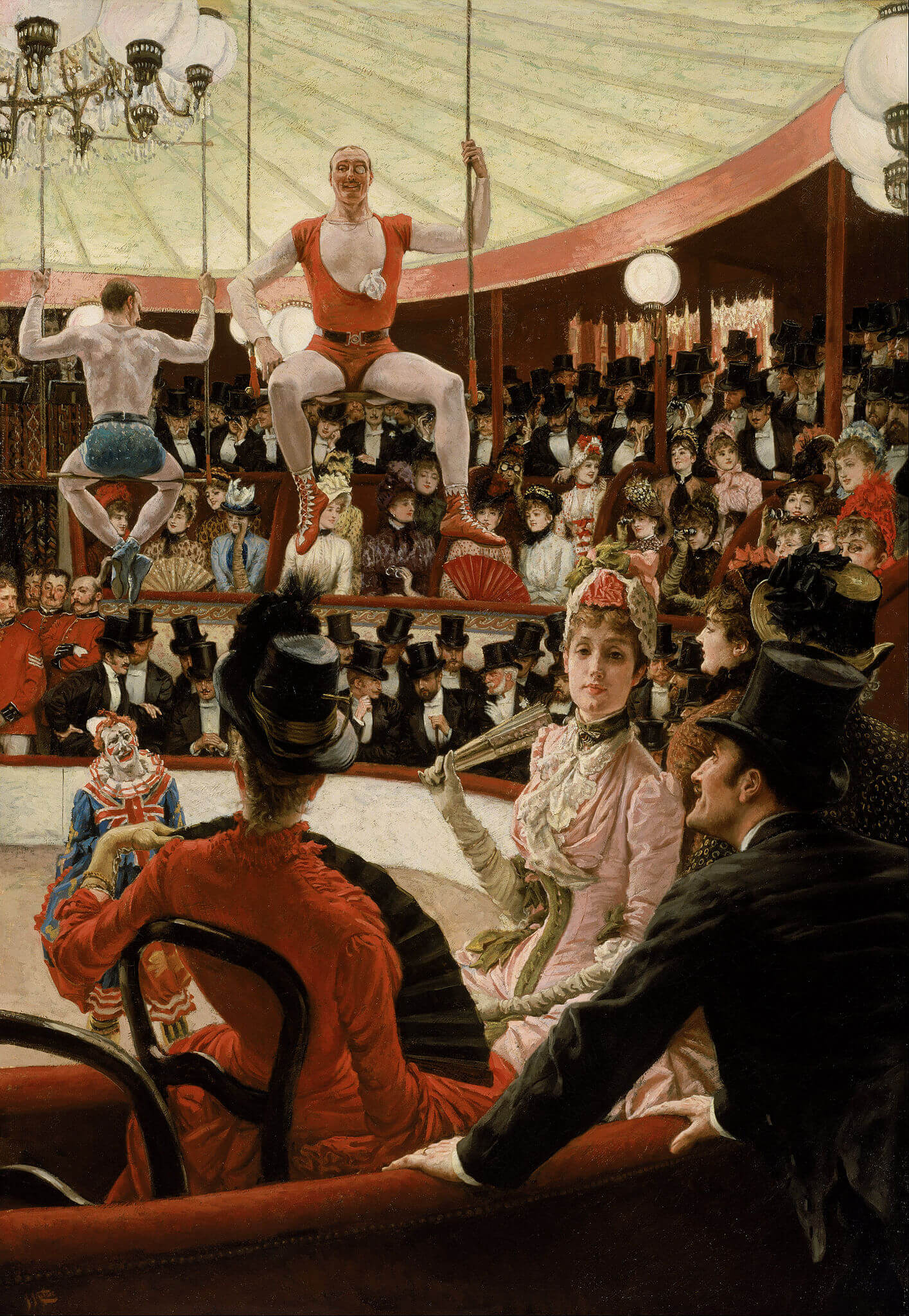 The amateur circus:
The circus was so popular with all classes of society that wealthy amateurs produced their own shows. This painting by James Tissot shows two aristocratic trapeze artists.
ARTISTS AT THE CIRCUS
In France, as in England, the circuses vied with music-hall and cabaret as the most popular entertainment in the last decades of the century. Their success was such that in Paris there were five permanent circuses in the 1870s, each giving nightly performances. But the audiences they attracted were different from those in London, for these 'lowbrow' entertainments became a magnet for the artists and writers of the time. Circus acts and individual performers were celebrated not just 5 in the handbills and posters used for publicity, but 5 in paintings that have since become world famous. e Painters and poets were attracted in particular
to the Cirque Fernando in Montmartre, which opened in 1875. Being small, it had an intimacy not found in the larger Parisian circuses - certainly not in the rival Hippodrome, which was large enough to stage chariot races by the 1890s.
Performances at the Cirque Fernando were held at 8.30 each night in a circular wooden building, its high domed roof crisscrossed with brightly painted and gilded rafters. Seats rose steeply from the ring, allowing the audience a far greater sense of involvement and immediacy than in the huge big tops popular abroad. Every movement, every hesitation almost, could be seen. The notorious Menken had performed Mazeppa's Ride here, and the circus still relied heavily on female horse-riding acts, controlled (as tradition demanded) by a mustachioed ringmaster, brandishing his whip. These female equestriennes would perform dance movements and somersaults bareback on a horse as it cantered round the ring. One, who doubled as a clown and also worked at the Moulin Rouge, was the curiously-named Cha-U-Kao who, along with the popular clowns Footit and Chocolat, was sketched and painted by Toulouse-Lautrec.
Daredevil feats were much in demand as always. A mulatto woman, Miss La La, helped to make the Cirque Fernando famous by an act in which, hanging by her teeth from a small iron ring, she would be hauled up to a high trapeze. By the 1880s and 90s young women had replaced men in many trapezes acts, sometimes performing without safety nets as an added thrill for the audience. Their graceful and perfectly-timed movements, inspired paintings by both Lautrec and Degas.
The Fernando was eventually renamed the Cirque Medrano and moved to new premises, but its popularity as an artists' haunt lasted right into the 20th century. Picasso painted the acrobats and clowns he saw there and the writer Jean Cocteau was a frequent visitor. But although the circus put on shows right up to the 1950s, it declined in popularity after the first two decades of this century, overtaken by a new entertainment - the 11 cinema.
The star of the show :
he First Clown was billed as the leading performer even in the most spectacular circuses. He usually appeared between each act, teasing the audience with constant shifts from smiles to tears.
BREATHTAKING FEATS
In their heyday, the circuses had spared no effort to keep one step ahead of the public, to whom bu what was sensational one day was old hat the next. p To keep their audiences enthralled, performers provided ever greater thrills and breathtaking feats. In London and Paris, there seemed no end to the risk artists would take in order to draw the crowds.
In 1860, audiences flocked to the Cirque l'Impératrice in Paris to see an acrobat named Jules Léotard. He performed his trapeze act high over the ring, whizzing 20 feet through the air from one trapeze to another. Photographs of Léotard in mid air, in 35 different poses, were being sold on the streets of Paris that summer, causing one observer to comment drily, 'In Paris, the man who risks his life, no matter how, whether or not it serves a useful purpose, is sure to start an infatuation.'
Léotard was quickly superseded in skill, as double and even triple back-somersaults in mid-air between trapezes became commonplace. But he did give his name to the bodys tocking still worn for exercise and, in spite of his failure to cause any excitement among the blasé London audiences, he was the inspiration for the famous music-hall song 'That Daring Young Man on the Flying Trapeze'.
The bearded lady:
Freak shows, featuring bearded ladies, mermaids, giants, and dwarves, were a special attraction of the American circuses which visited Europe. But most were fakes and looked convincing only from a distance.
THE AMAZING BLONDIN
Léotard's success was soon eclipsed by that of Blondin, who in 1861 walked along a tightrope stretched 160 feet above Niagara Falls, carrying a man on his back and pausing in the middle to cook and eat an omelet. Blondin subsequently played to packed audiences at the Crystal Palace, where he would ascend to a great height by walking up a tightrope at a steep angle and performing various tricks once he reached the horizontal rope.
In terms of pure spectacle, little could rival Phineas T. Barnum's American Circus was performed in a huge, circular canvas tent that came to be known as the Big Top. Barnum was the first to dub his circus the 'Greatest Show on Earth' (now used by practically all circuses, however small) and in sheer size, it certainly outstripped all its European counterparts. Barnum's circus, which opened in Brooklyn in 1871 and afterward traveled to England, claimed to have 4,000 employees, performers, and animals, with 32 acres of canvas, using three tons of sawdust at every venue.
Chocolat and Footit:
Even nightclubs and music halls employed clowns during the 1890s. appearing at the Moulin Rouge, where they were painted by Toulouse Lautrec.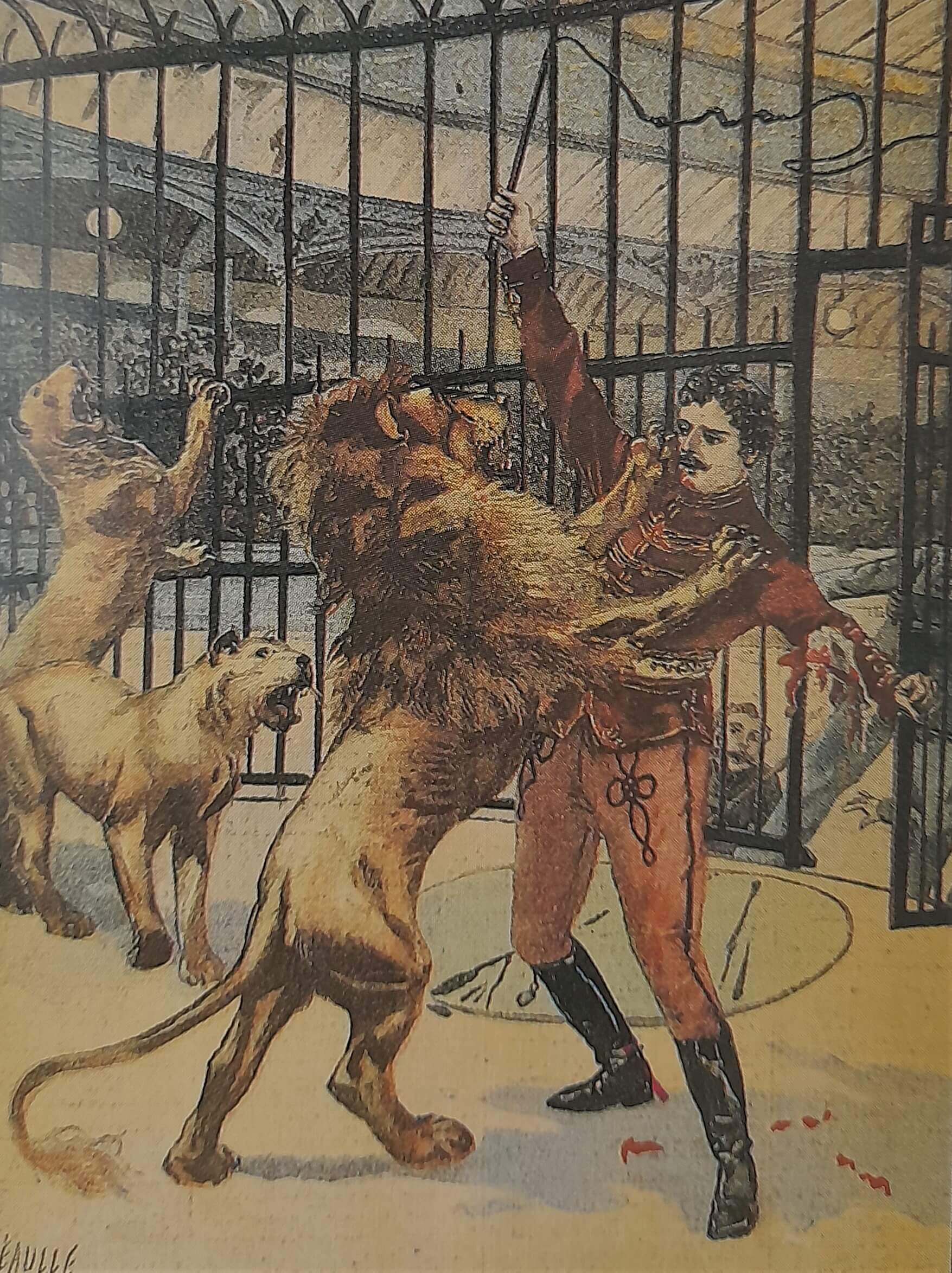 Dangerous thrills:
In 1900, the lion tamer at the Hippodrome was badly mauled in the middle of his act, before a huge crowd. Competition between the circuses was so fierce that performers were forced to take everincreasing risks to satisfy the public's thirst for dangerous acts.
THE ELDORADO ELF
The success of Barnum's gigantic show rested to a great extent on his own showmanship and skill at publicity. Among the attractions his circus boasted were exhibits that now seem altogether tasteless, but which Barnum knew the public would be agog to see, including Anna Leake, the Armless Woman; a troupe of 'man-eating cannibals' brought from Fiji; Admiral Dot, the Eldorado Elf; and Colonel Goshen, the Palestinian Giant. These were in addition to a large equestrian team, acrobats, conjurors, performing animals, an exotic menagerie, waxworks, and a full band.
Freaks - some of them genuine, but others depending on a large dose of gullibility and an e certain physical distance on the part of the spectators - had been part of fairs for centuries and were still immensely popular. Barnum's world-famous circus - expanded in 1891 when he formed a partnership with James A. Bailey - exploited their appeal to the full. And Barnum & Bailey's Circus remained a byword in showbusiness history long after both founders had died, at the turn of the 20th century.
WILLIAM BLAKE (1757-1827) One of the most distinctive of all English artists, William Blake was a brilliant poet as well as a great pai...